The 5 foods you HAVE to try when you visit Iceland!
Calling all foodies! This blog will tell you all about the 5 foods you HAVE to try when you visit Iceland. So continue reading on if you are about to or thinking about visiting Iceland soon!
Iceland has quite the food scene in case you didn't know. We have evolved a lot since the Vikings first settled up here in 874 and Reykjavík, the capital of Iceland, has over 400 amazing restaurants. So when you visit here, it can be tricky to know what you should eat. Lucky for you, I am here to help you with that!
Before we get into the 5 foods you have to try when in Iceland, I wanted to tell you about The Reykjavík Food Walk.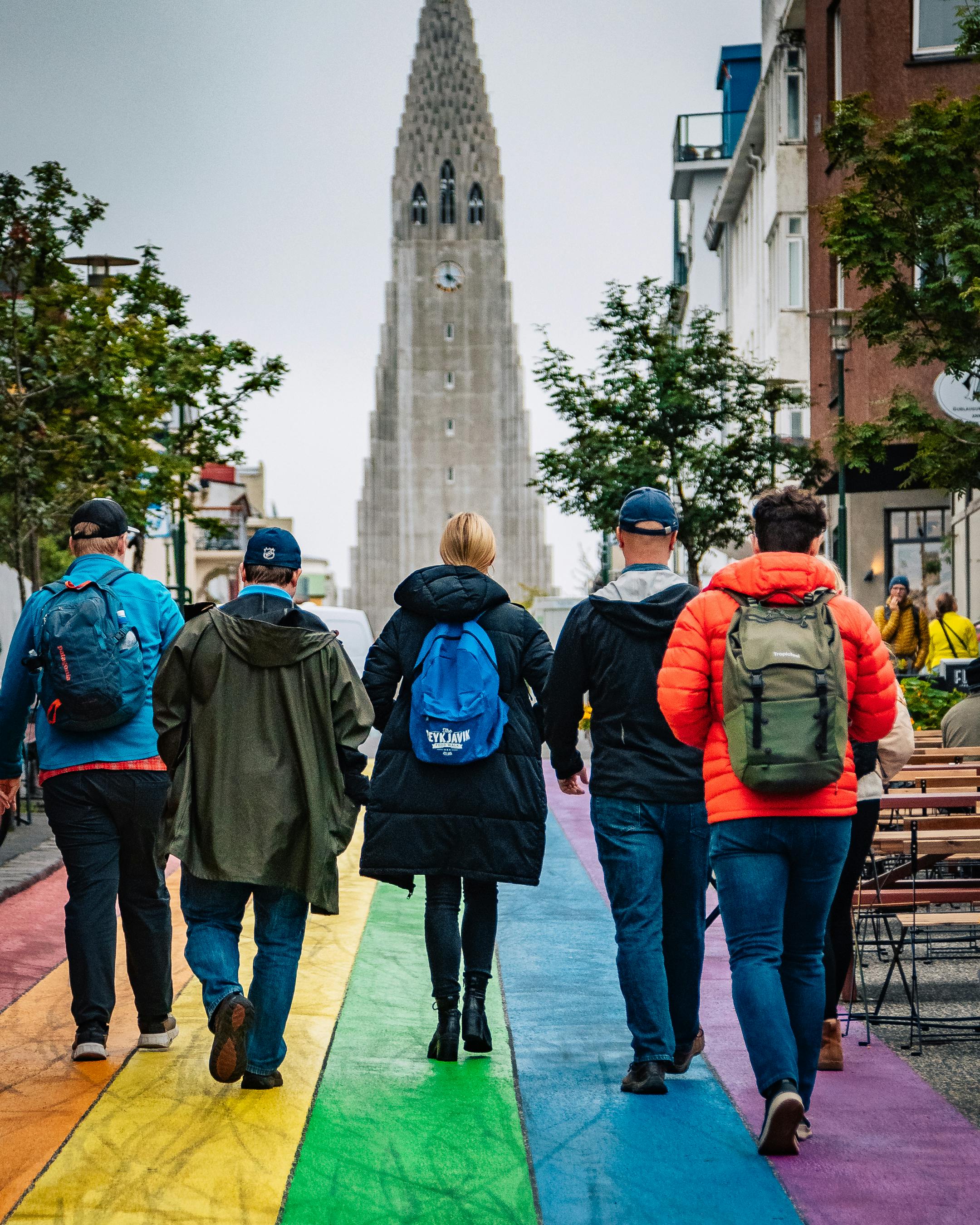 The Reykjavík Food Walk is a tour that gives you a literal taste of Icelandic food history and culture in the most fun way possible! It has the most 5-star-reviews out of any other food tour on TripAdvisor. On the Food Walk, you hit up 5 local restaurants in Reykjavík that our team of Icelandic foodies has picked out to give our guests the best experience. The restaurants range from homie cafés to new and exciting gastro pubs with everything in-between. The walk is led by a super fun local guide who accompanies you every step of the way, explaining the cuisine, giving insider info, and just enjoying with you. It is a great way to get acquainted with the city so we like to recommend it as a first-day activity. So if you are coming to Iceland, be sure to sign up today for The Reykjavík Food Walk and you just might be able to cross some of the following food items off your bucket list!
Now let's get to the must-try foods when in Iceland!
Number one on the list is the beautiful Icelandic lamb. We have been eating lamb here ever since the first settler Ingólfur Arnarson brought some with him on his ship in the year 874. The reason why the Icelandic is lamb so unique and so delicious is that the sheep roam free all throughout spring and summer. Then they eat the wild mountain herbs and berries and develop that unique flavor and texture that we Icelanders really love. So to taste the lamb here is a must!
A few of my favourite lamb dishes are the Icelandic Lamb Meat soup, A slice of smoked lamb served on an Icelandic flatbread, and a nice piece of slowly roasted lamb shoulder or leg. All sooooo good and available everywhere here in Iceland!
Did you know that Iceland has more sheep than people? It's true! Watch out for them when driving around in the summertime, they are everywhere.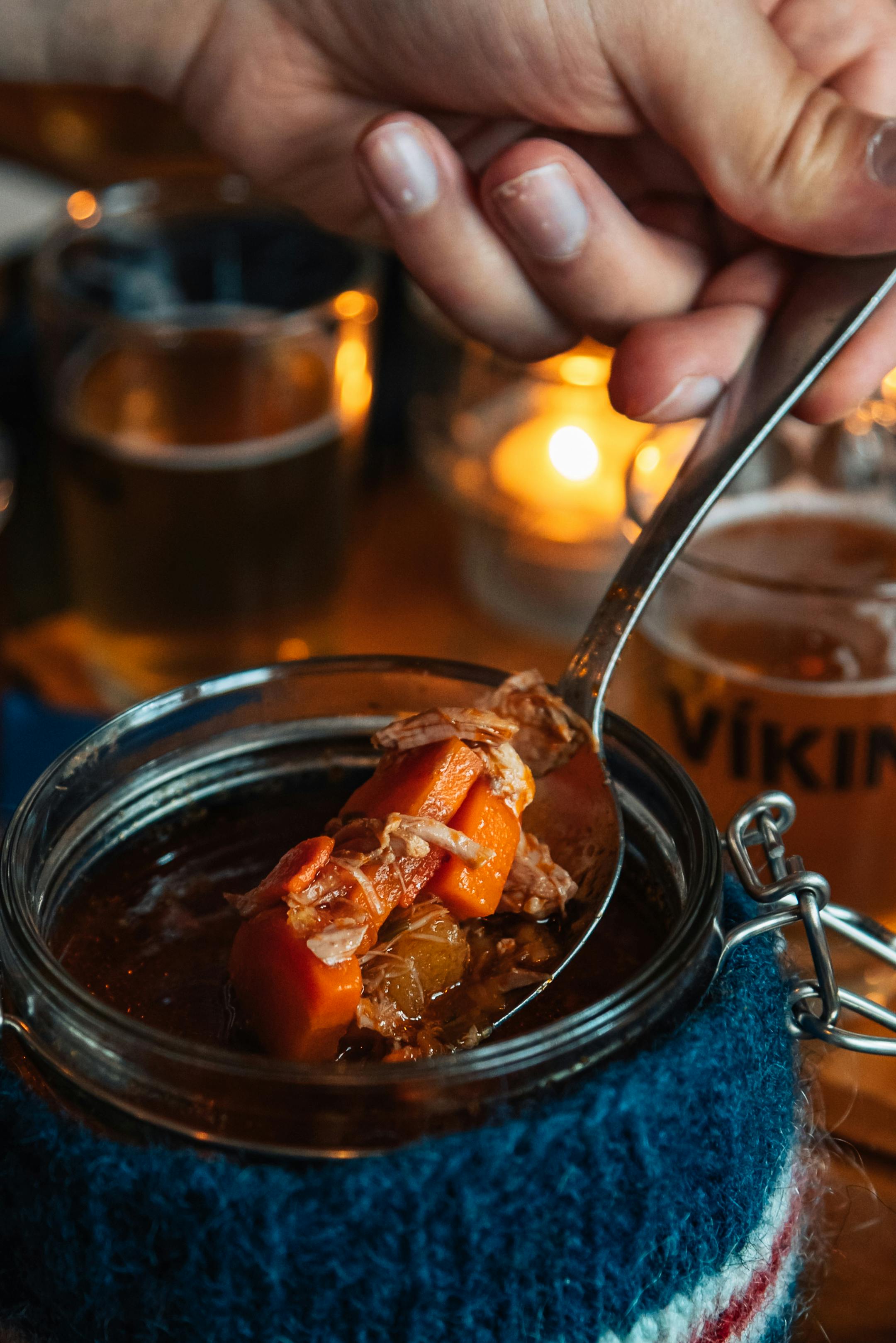 Number two on the must-try foods when in Iceland is Skyr, something you might have heard about. Skyr is an Icelandic product that has gained popularity around the world in recent years, and rightfully so!
Skyr has been a stable part of the Icelandic diet for well over a thousand years and Skyr is often compared to very high-quality greek yogurt BUT Skyr is actually made in the same way as cheese! So technically it is not yogurt, although we do consume it in that way. That is why in many restaurants and cafés here in downtown Reykjavík will have Skyr Cake on their menu. Something very similar to cheesecake, but in my opinion way tastier!
Skyr is also super high in protein and low in fats, so it is a great breakfast option or just as a meal to fill you up on the road when exploring Iceland. It is also widely available everywhere here and comes in many different flavours!
My favorite way to eat skyr is to have it whipped with cream, a sprinkle of sugar, and topped with fresh berries on top. Phenomenal stuff.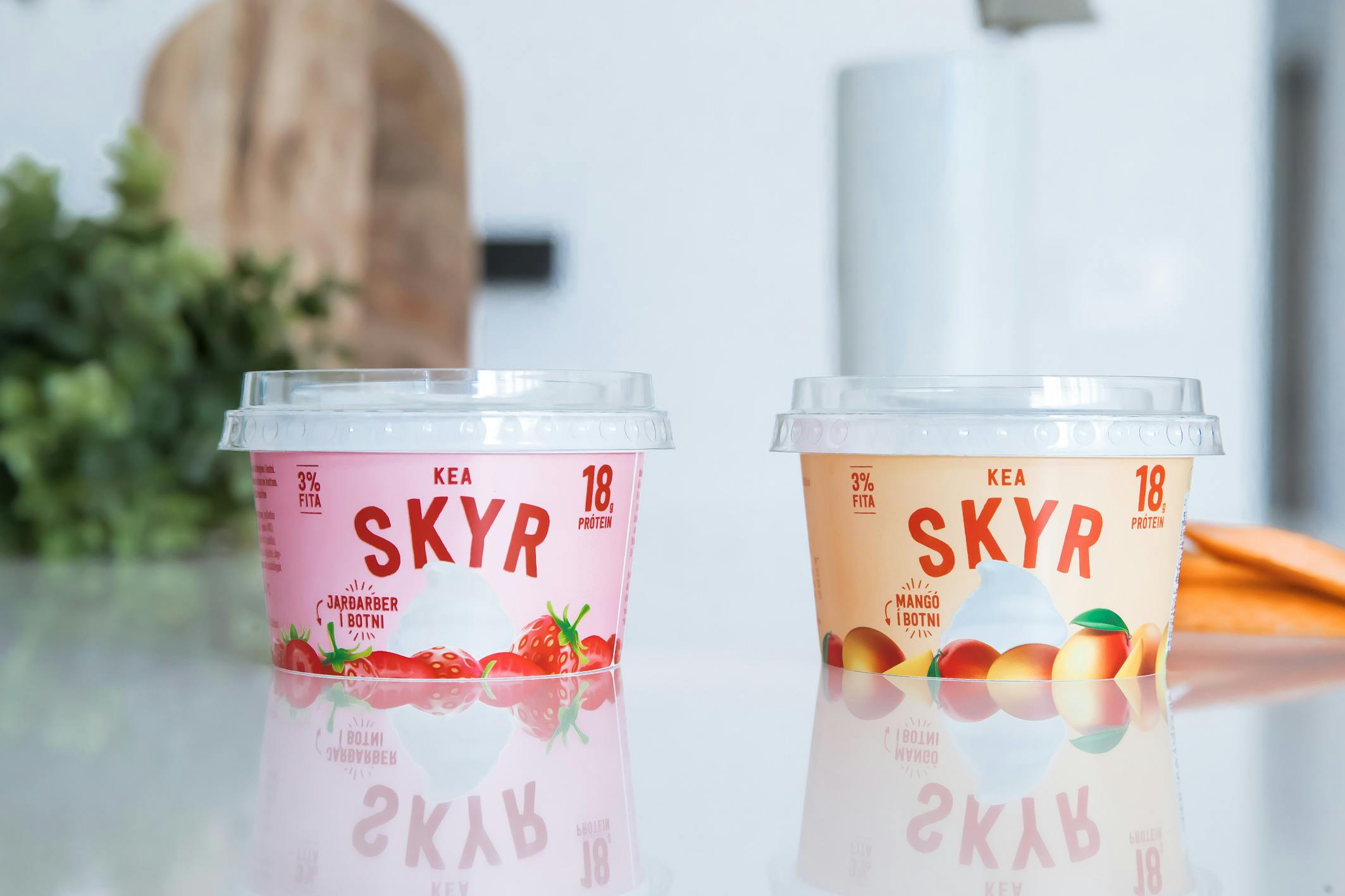 You can't write about things you have to eat in Iceland without mentioning the seafood. With Iceland being an island at the juncture of the North Atlantic and Arctic ocean we have plenty of amazing seafood to try here. But just the seafood, we also other freshwater creatures lurking in our glacier water and rivers that are just as tasty! So do me a favor and eat fish and shellfish at any chance you get here! I am telling you, you won't regret it.
We also do banging seafood soups with a mixture of different fishes and crustaceans, and if you spot a lobster soup on a menu here. You HAVE to try it. I think it's the law.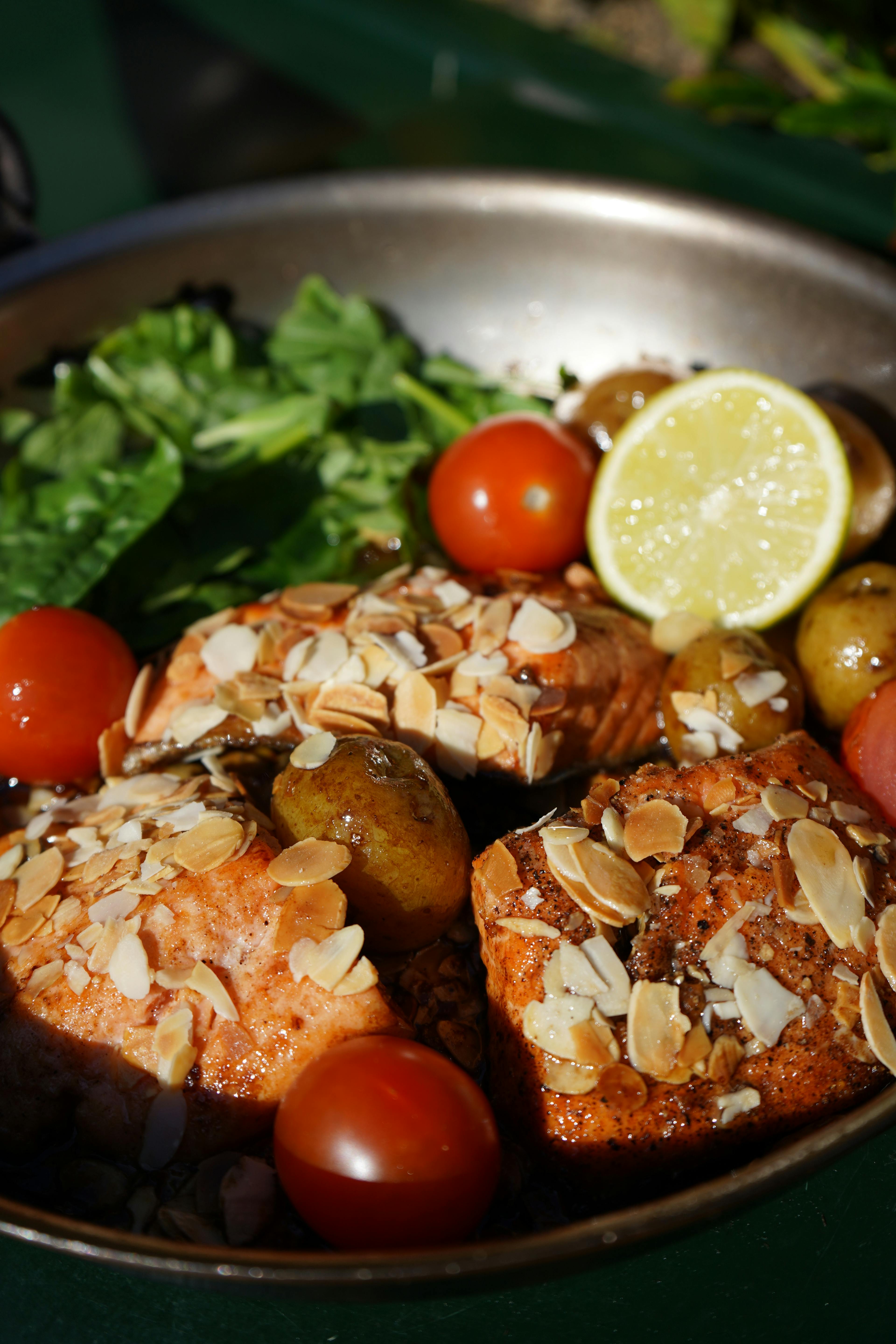 During the Viking era, we of course still had all the delicious seafood - but we also had harsher winters. So we could not always access the fish. That meant that if you caught any fish you would have to come up with clever ways to preserve it. That is why so much of the authentic Icelandic cuisine focuses on preserved fish. An example of that is cured fish, which is big here. Cured salmon or Arctic Charr is a stable at any Icelandic Christmas table, then we have dried fish jerky (just remember to put plenty of butter on it) and then other more adventurous options like the infamous fermented shark. I highly recommend you try the fermented shark if you dare.
Tip: If you dare, also order a shot of black death to have on standby when you do, trust me... You will need it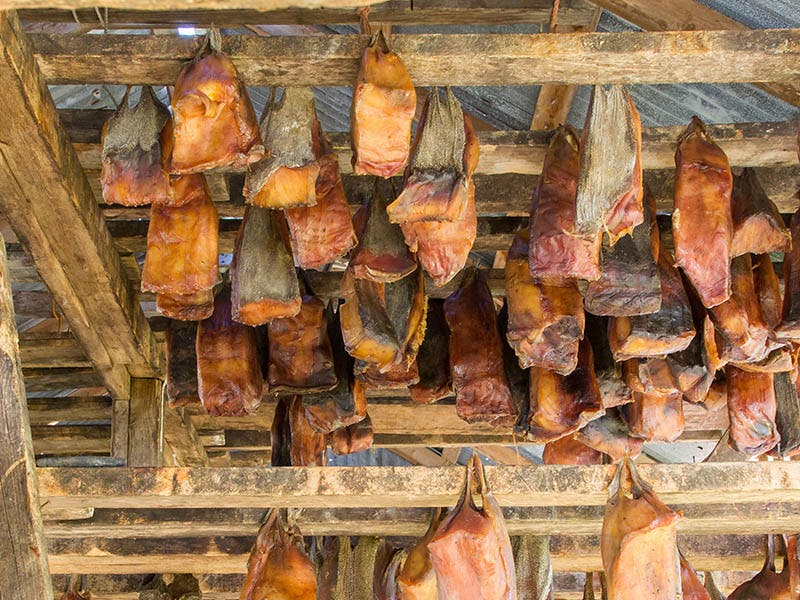 Number four on our list of must-eat foods when in Iceland is, who would have guessed it, hot dogs! We here in Iceland are hot dog obsessed and believe me when I say, they are DELICIOUS.
They are a bit different than what you might be used to since a standard hot dog here in Iceland is a lamb hot dog. Our hot dog condiments are as follows:
Hot dog Ketchup - they use apple sauce instead of sugar
Hot dog mustard - similar to sweet honey mustard
Remúlaði - a mayo relish sauce 
Fried Crispy Onions
Raw onions
tip: get one fully loaded with all the toppings, the flavours blend together perfectly!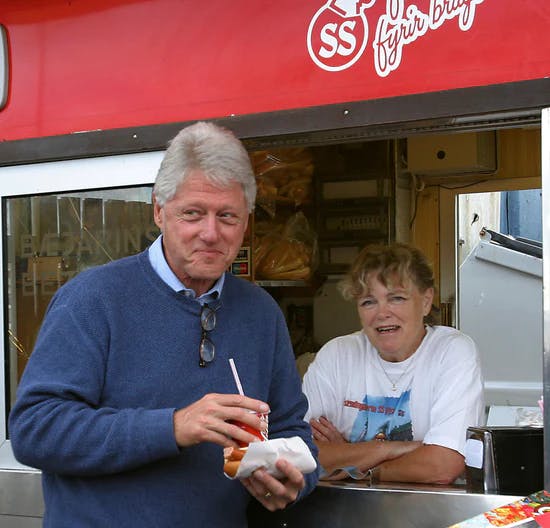 The hot dog is the first fast food that came to Iceland and in 1937 the first hot dog stand opened up in Reykjavík, it is still there to this day and is called Bæjarins Beztu Pylsur. It opens up bright and early (9:00 am) and does not close down until the bars here close down (during the weekend the bars close at 4:30 am) so breakfast or a midnight hot dog here is completely acceptable!
All the celebrities that visit Iceland go to this iconic stand, most famously Bill Clinton visited the stand in 2004 and had a hot dog, only with mustard.
Last but not least we have our delicious ice cream that we eat all year round! The Ice cream shops in Iceland are actually open until midnight in the summertime and 11:30 pm in the wintertime! So no matter the weather warm or cold, sun or rain, I can guarantee you one thing and that is that we WILL be getting ice cream. 
The most popular style of ice cream in Iceland is the classic soft serve that you will find everywhere around the island. It is usually either the old style of ice cream (a milk-based ice cream) or the new style (a cream-based ice cream) but we also do some unique ones so if you are up for some different flavors, try the Rye Bread ice cream when you get here, super unique and oh so good.
Tip: The Rye Bread Ice cream is available on our Reykjavík Food Walk!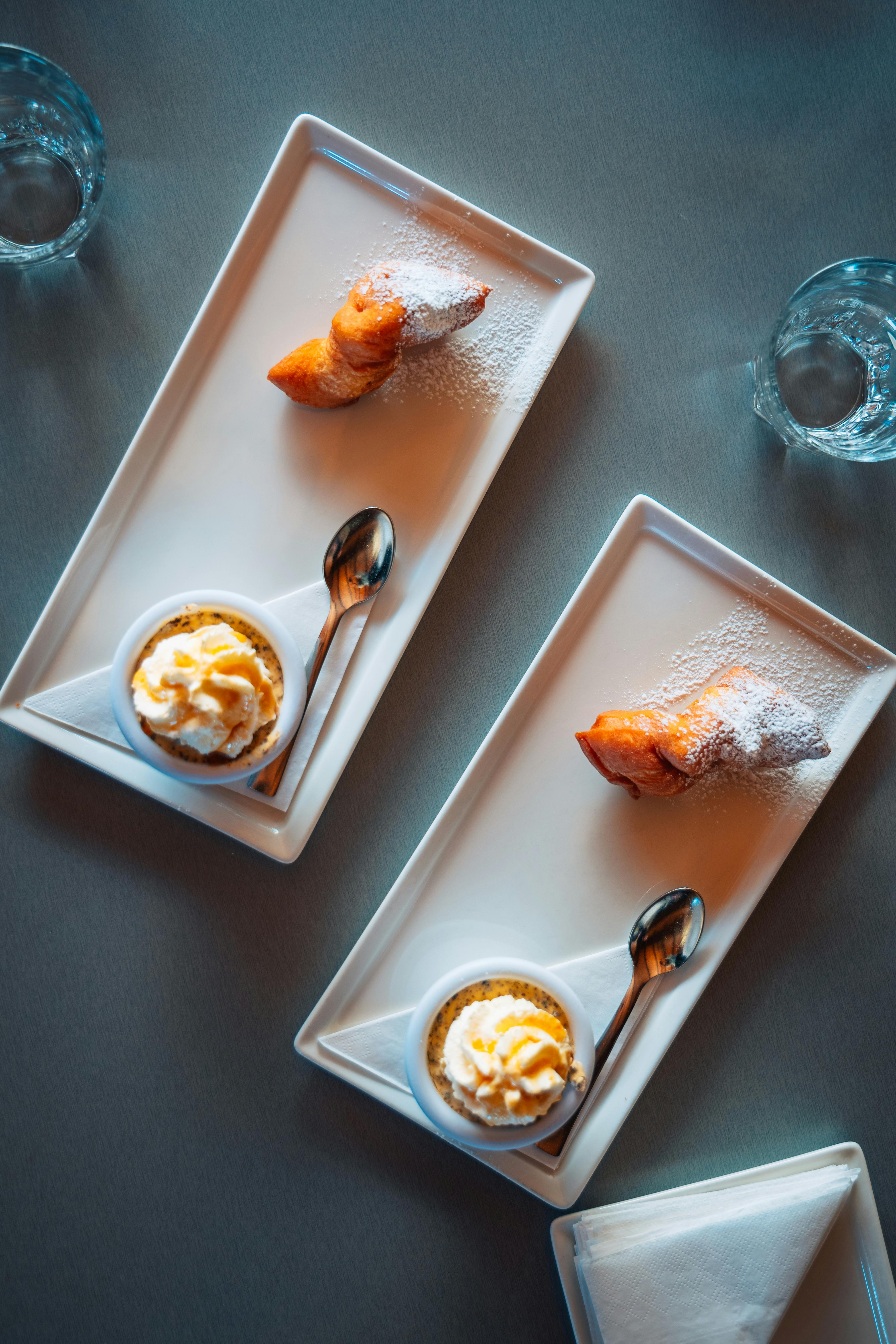 That concludes the list of 5 foods you HAVE to try if you visit Iceland. Hopefully, this blog was enjoyable and useful. If you want us to about more foods you must try when in Iceland, let us know!
See you next time in Reykjavík.
About the Author
Guðný (Good-Knee)
Guðný is a born and raised Icelandic foodie!

She has been with us since 2018 doing the Reykjavík Food Walk and now also doing some fun foodie-related content on our social media pages. When not working Good-knee enjoys hanging out with friends, the music scene, and exploring new places and cultures through food and drink.