Everything you need to know when travelling to Iceland in November!
Iceland in November sounds like a very cold time to travel. Just the name of the country implies that we will be covered with ice. That doesn't necessarily have to be the case though. It can be a wonderful, magical time to visit. Let's take a closer look at what to expect when visiting Iceland in November!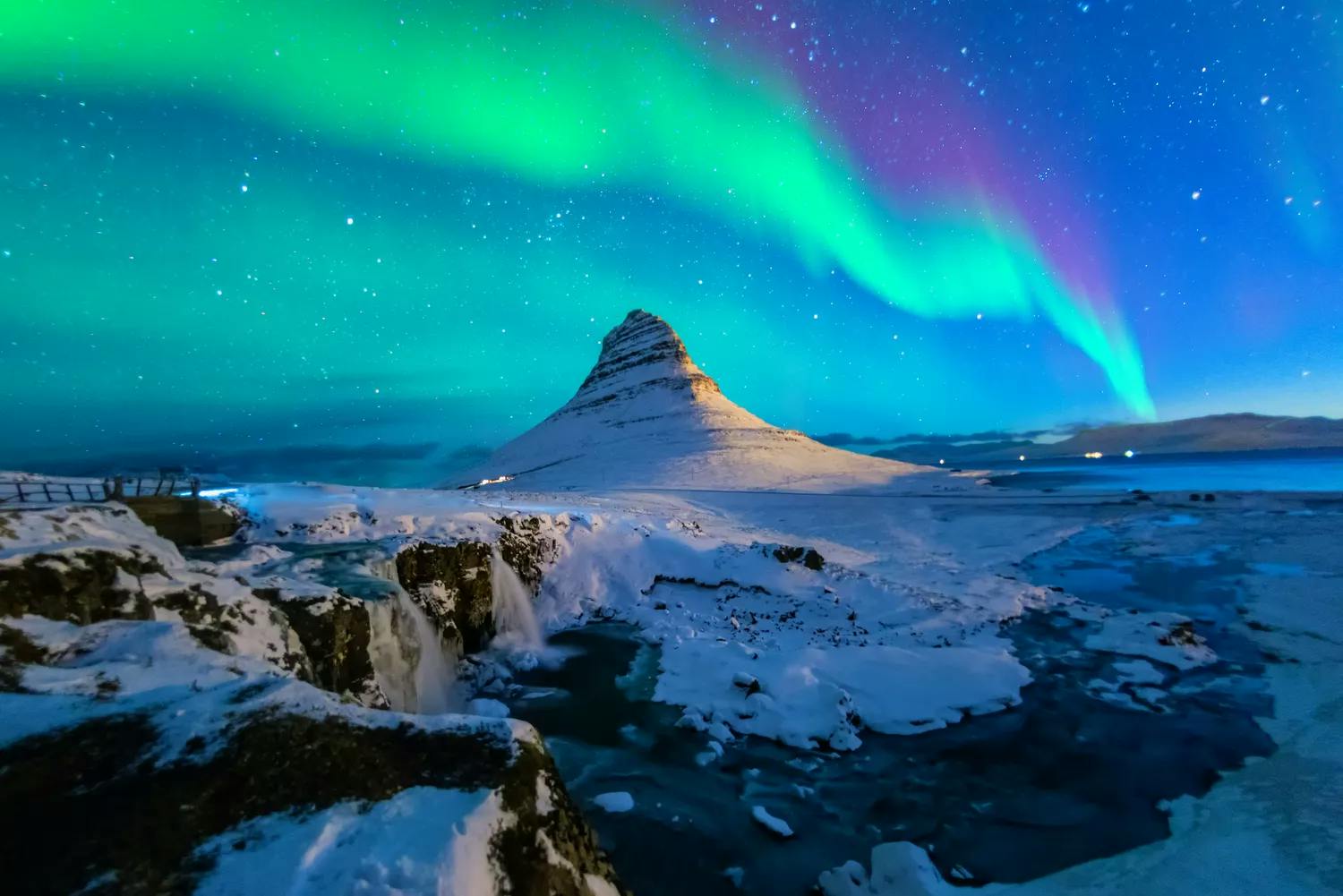 Weather conditions in Iceland in November
Dark days illuminated by northern lights, mountain ranges topped with beautiful ice caps and the fresh, cool, winter air all around. These are some of the great things about Iceland in November. Like with any topic in Iceland we have to start with the weather, and the question remains; will it be really cold?
In November the average temperatures in the capital hovers around 2°C or 36°F. Of course it can be a little warmer or colder, wet or dry or even some snow. It could also be MUCH colder, windy, rainy or heavy snow. We never really know and that's why it's always good to come prepared for all conditions. We have a saying here in Iceland - if you don't like the weather, wait 15 minutes. This is shockingly true and you will most likely experience it yourself when visiting the island. In general though, you don't have to worry much about the cold temperatures being a danger or reducing the quality of your trip!
Here is a picture of average temperatures in Iceland for the whole year, both in Celcius and Farenheit, low and high averages.

What you should pack for your trip to Iceland
Now that we've covered the weather a little bit, I think it's time to look at what you should be packing for your trip to Iceland. 
If you ask someone what the best way to dress during the colder months I'm sure you would get the same answer everywhere – wear layers! This means that wearing thermals, a good sweater, a coat, etc. so that you can keep warm but also cool off when you get too warm. I have put together a small list of the absolute essentials to bring which you can use as a guiding light for your check list:
Thermal layers
Warm socks
Sturdy shoes
Winter hat
Gloves
Scarf
Good coat
This is of course not a final check list, but it does contain some of the more important things to remember to bring!
What to do in Iceland in November
You're all set on what to bring, what to expect weather wise, but now the question of what there is to do in Iceland in November. Being an island in the North-Atlantic, we have limited daylight during the wintertime. Because of this, we often get the question: Will I see anything on the tours? The answer is, yes! Absolutely – we are experts at navigating the country to maximise the light during the day. The darkness also gives us some beautiful winter nights where the contrast of the dark sky and white ground can be mesmerising. On top of that, the dark nights and early evenings give us a much better chance of seeing the northern lights, but more on that below!
Here I have a few great suggestions for what to do during your stay in Iceland.
The Reykjavík Food Walk
Getting to know the city of Reykjavík, Icelandic culture and cuisine, having amazing fun and picking the brain of a local guide. All of this in one tour The Reykjavík Food Walk! In my opinion, this tour is the best way to start your stay in Iceland. It's a fantastic way to get to know the city, our culture and cuisine, all through a fun local guide in a group of adventurous travellers. That way you know where to eat during your stay and can ask the guide anything you might want to know. The tour is running all year with many departures each day, but I would still recommend booking your tickets in advance since they do tend to sell out quickly! You can book your tickets here.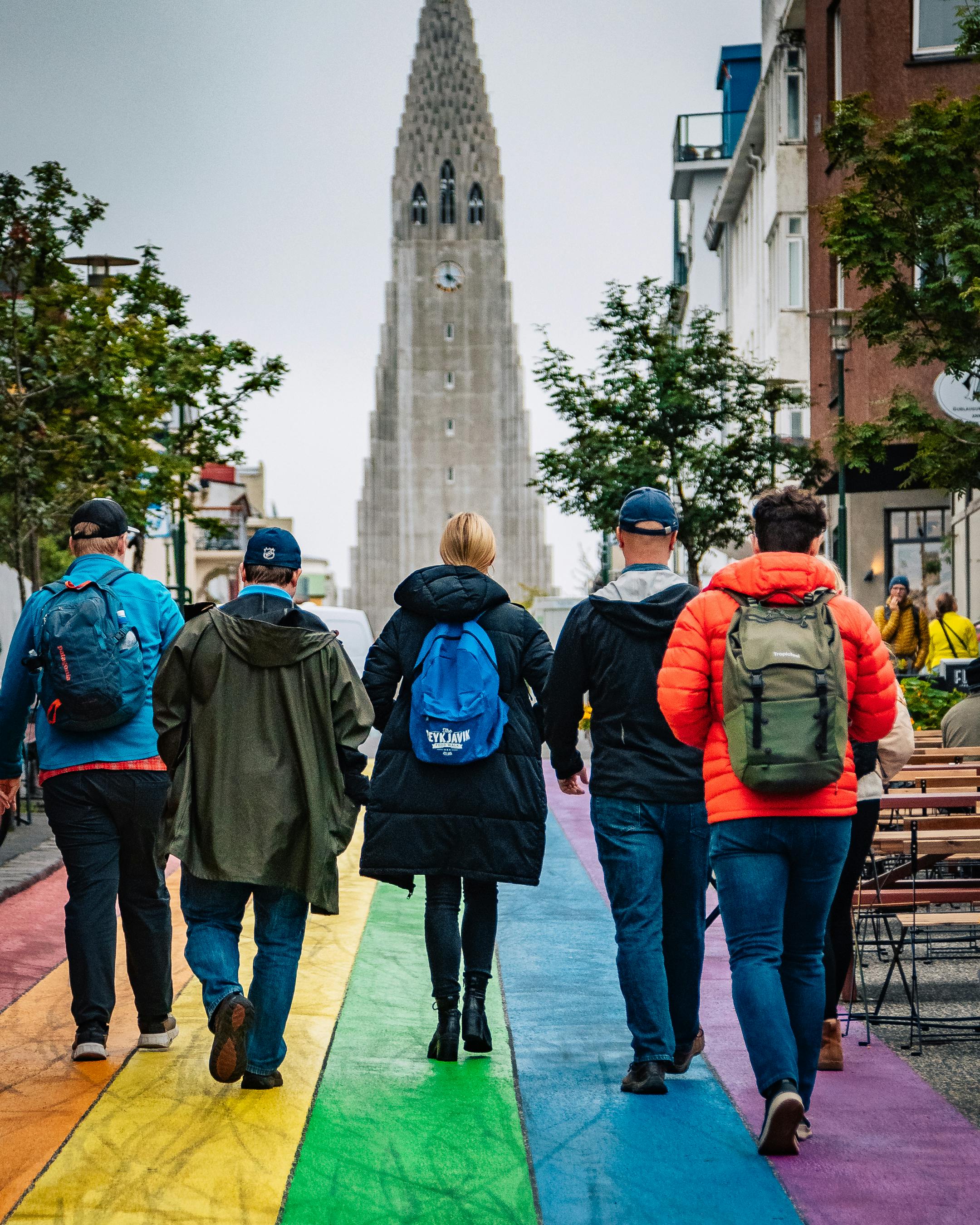 Catch a glimpse of the magnificent Northern Lights
This is of course an absolute must while staying here in Iceland! I usually recommend that you book your northern lights tour as early into your trip as possible to maximise your chances of seeing the lights. On the northern lights tour we offer. The reason for the chances being higher is because if the conditions are bad on the day you have booked, you can be rescheduled (as many times as needed) for another day until you see the lights. That way you can book on your first night, then for 3 days the tour wouldn't be operated because of clouds, and you could just join the tour on day 4.
If you would like to go northern lights hunting by yourself then I recommend reading our blog about the northern lights. There you have all the information you need to either book a tour or scout for them yourself!
Full day sight-seeing tours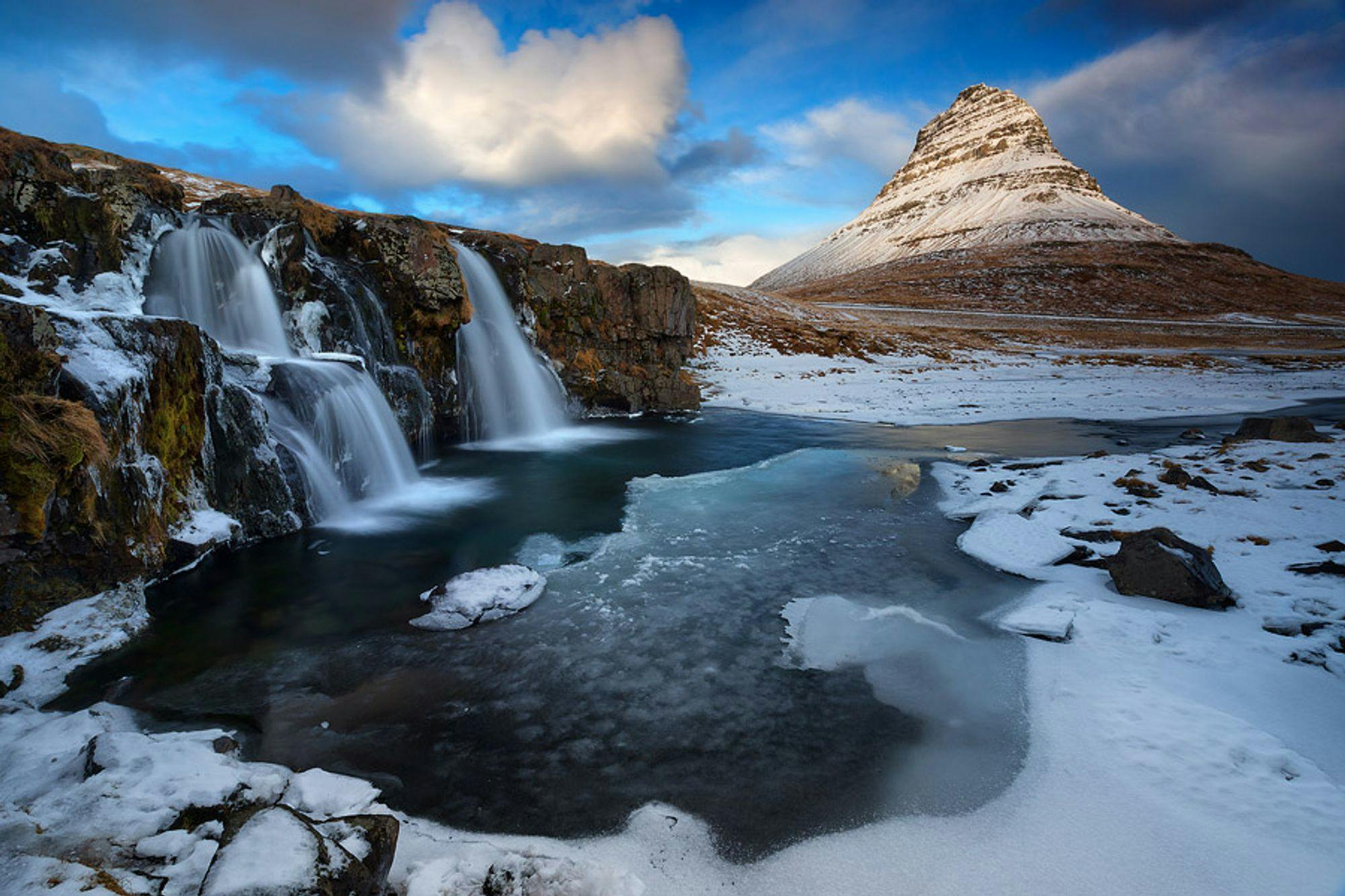 Despite the limited daylight, our sight-seeing tours such as the Golden Circle tour, the South Coast tour and the Snæfellsnes Peninsula tour, are all viable and fantastic choices in November!
These tours all start early in the morning and so the drive from Reykjavik will be mostly while it's still dark out. It's a different experience for sure, driving in the morning and to noon but it can feel like the middle of the night. You will see something of course on the way but when you arrive at the first stop, the daylight will have breached through the dark night and illuminated everything you might want to see during the tour.
Finally, when the tour is drawing to a close, the light fades away and you will go back into Reykjavik, arriving when it's dark again.
Looking for some more adventure?
When you've already seen Reykjavík, gone on some sight seeing tours, you might want to go for some more hands-on tours and excitement. Here are a few of my top suggestions for your stay in Reykjavik.
Full-day glacier snowmobiling tour
For a little more adventure, I would highly recommend going on this fantastic glacier snowmobiling tour on a glacier where you not only get to explore the glacier but also get to see a fully natural ice cave, and get to explore during the tour. This tour is only available during wintertime - not because the glacier isn't suitable during winter, but because the ice caves melt during summer! If you're here in the winter and would like to see a real natural ice cave - don't miss this tour!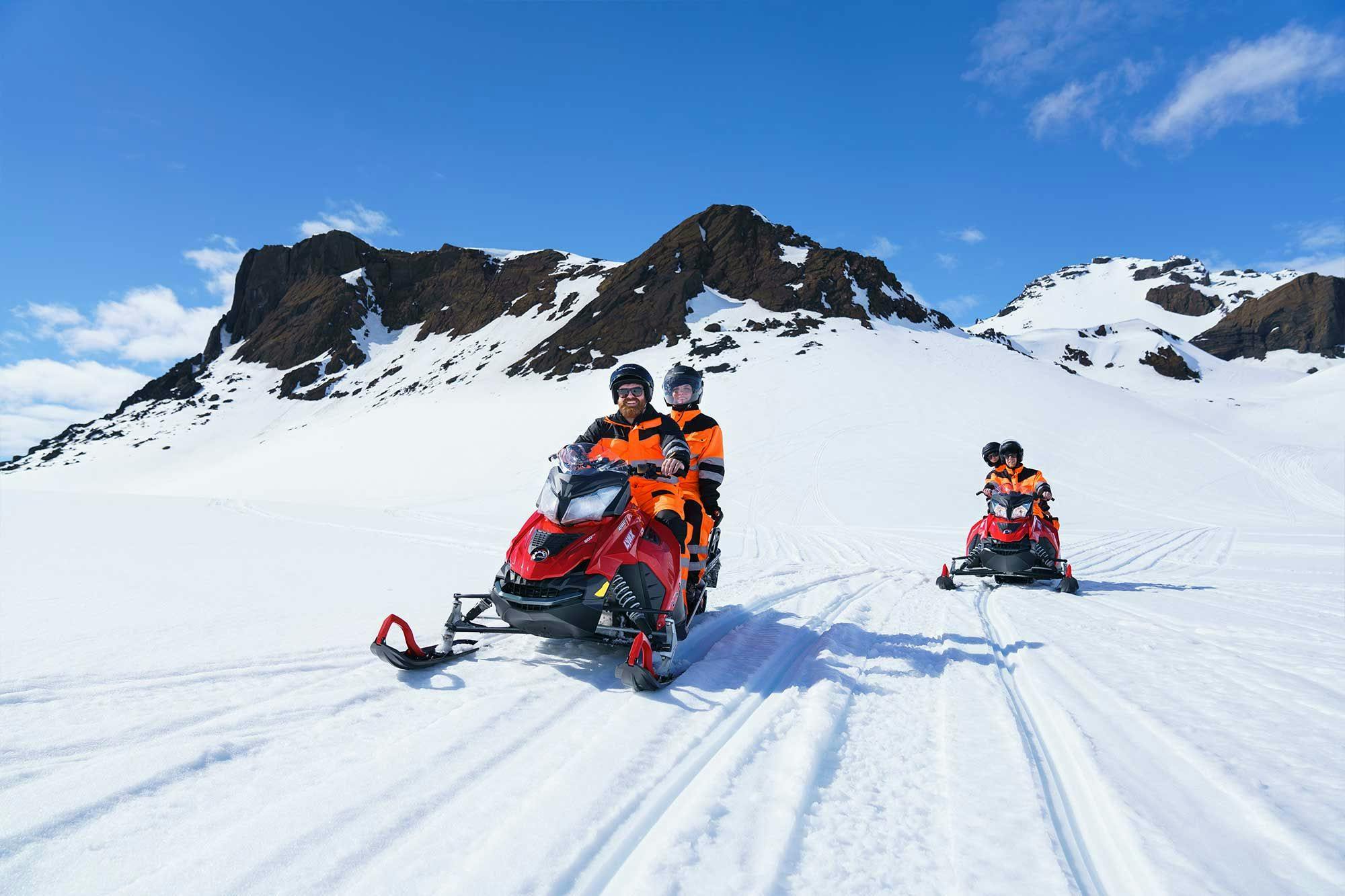 ATV tour in Reykjavík
The ATV tour we offer is the Twin-Peak ATV tour. It's located here in Reykjavík so it's not a full day experience, which means you can couple this tour with other activities. You get to go up to two peaks with a marvellous view over the city, but still away from all the building, cars, noise and other people. A nature tour, right here in Reykjavík.
Horse Riding tour in Reykjavík
If you're tired of the machinery then this is the tour for you. In essence, it's very similar to the ATV tour. The Lava Tour is a horseback riding tour, right here in Reykjavík. You still get to enjoy the nature surrounding the city, away from all the noise of the city itself. The Icelandic horse is very unique, smaller and more compact with more gates than any other horse breed in the world. It truly is a special experience to try!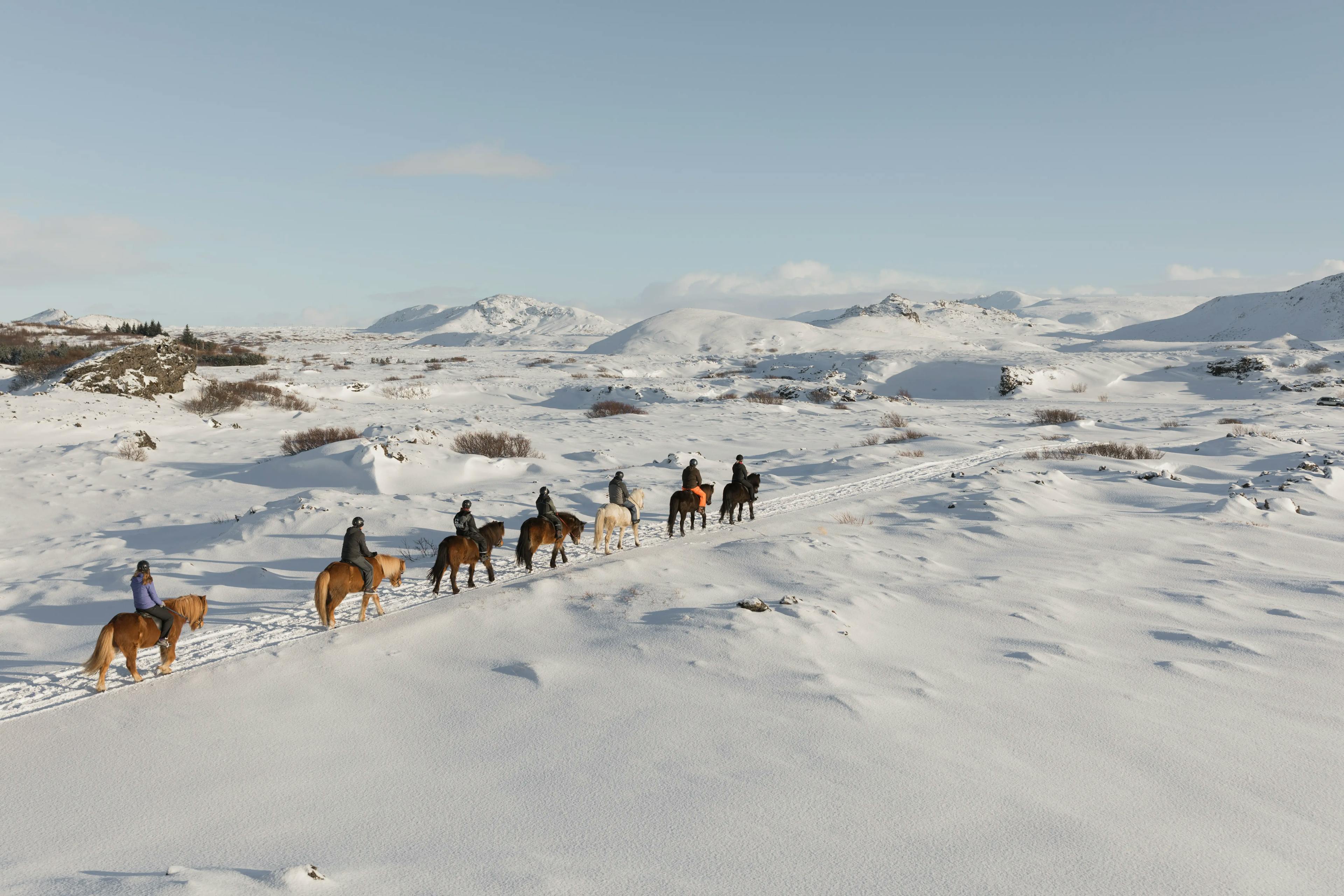 Arriving in Iceland
It can be a bit confusing arriving in Iceland. Where do you actually land, where should you stay, how do you get into town, what is it all called. Here we have some practical information about your stay in Iceland.
The airport and getting into Reykjavik
Some time ago, officials decided to change the name of our Keflavík International Airport (KEF) because let's face it, no one knows what Keflavík is..So now it's called Reykjavík International Airport. The only problem is – it's not in Reykjavík. It's actually a good 45 minute drive from the capital. Getting into Reykjavik is very easy however. There is a shuttle service called FlyBus that runs all day long and they schedule their departures according to when the airplanes land. So you should have no problem getting a ride into town!
The price for each passenger on the FlyBus is 3,500.- ISK (approximately $25). This will only get you to BSÍ (main bus terminal), so if you have many suitcases then it might be a little tedious having to either walk from there or take a taxi after the shuttle ride. Another option would then be to take a taxi all the way from the airport to your hotel (if you have a hotel in Reykjavik). Usually they have a set price per car of around 16,000.- ISK (approx. $110). So if you're a group of 4 or more then that might even make more sense!
Hotels in Iceland - what to avoid 
As for hotels – if you haven't booked your hotel then the best option will definitely be to book a hotel in central Reykjavik (zip code 101). This is close to everything you might want to do; restaurants, museums, cafés, bars, and all tours we offer have departure and pickup from central Reykjavik. Hotels in Keflavík might be a little cheaper, but that would also mean if you want to do anything in Reykjavik, take any tours, then you would have to find your way to and from Keflavík, for everything you want to do. All-in-all, it's more expensive than finding a hotel in the centrum.
FAQ
Will I see anything on the day tours despite the limited daylight?
Yes! We have become experts at navigating the country during wintertime and know how to utilise the light we get.
Is November a good month for northern lights?
November is usually a good month being well into the northern lights season. The evenings get dark very early which makes it even more likely to see the lights.
Will it be really cold in Iceland in November?
Normally it is around 35°F so it's not THAT cold! Of course it could be a bit warmer but it could also be quite a bit colder. We always recommend bringing warm clothing and to wear layers.
Any more questions?
You can always send us an email at info@wakeupreykjavik.com if you have any further questions!
About the Author
Thor / Þórður Arnar
Þórður Arnar is born in Iceland, raised in Iceland and partially in England, loves languages and food. He is the head of operations and sales for the Reykjavik Food Walk, and has maintained that position since January 2022.